ST Concrete: The Ultimate Ready
Mix Concrete Supplier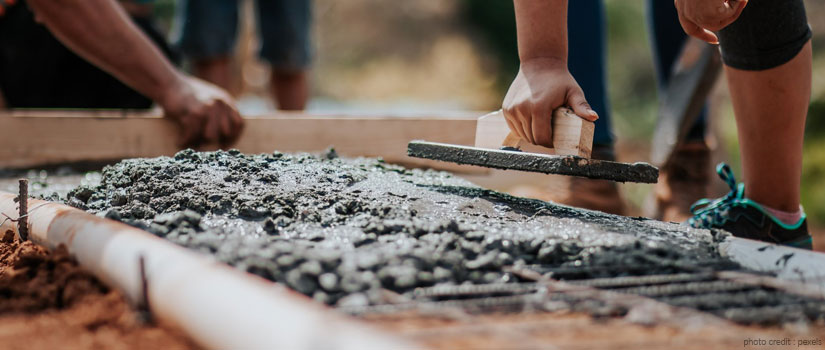 Ready-mix concrete is best for commercial sites. ST concrete provides the highest grades of ready mix concrete for both domestic and commercial purposes.We operate and nearby areas. Being the best Ready Mix Concrete Supplier, we run batching plants where we prepare concrete as per your requirement.
Ready-mix concrete ensures durability. We simply pump and facilitate the exact amount of mix directly to your project. This will help you save your time on mixing and lying down. Therefore, you get more time to attend to other areas of your work. This makes us one of the well-known Ready Mix Concrete Supplier
Getting high-quality concrete supports a wide variety of construction and building needs. ST concrete has assisted in the development of both commercial and residential facilities. Our ready mix concrete ensures versatile service, from laying a new building foundation to developing farmland projects.
Easy Concrete Transportation
Team ST Concrete delivers products through our fleet of trucks. Our concrete transportation features the latest drum. It is much lighter than a conventional mixing machine. Therefore, they can carry more products.
The latest truck models provide low emission and run on Euro 6 certified machines. If customers require low-volume concrete or work on a site with restricted access, ST Concrete being the pioneer ready mix concrete supplier can handle it effortlessly.
We Have Durable & Suitable Option
ST Concrete supplies top-quality ready mix concrete. Our supplies are perfect for
Concrete floors/ Building foundations
Concrete piling/ Underfloor heating
Road works/ platforms/ Bridges
Industrial estate/ leisure centre floors
Basements/ extensions and more
We Offer Sustainable Solution
ST concrete facilitates excellent quality sustainable concretes designed to meet all the environmental agendas. Our expertready mix concrete supplier integrates superb quality strengths and grades of ready mix concrete. ST Concrete pride itself on providing the best rates of concrete at a very compatible price.
Affordable Cost
ST Concrete provides Ready Mix Concrete, On Site Mixed Concrete, Concrete Boom Pumpand more concrete supply services at the lowest prices. Our batch plant includes top-class machines, and therefore, we're able to supply concrete at the most reasonable rate.Top ready mix concrete supplier sell concrete by volume. Therefore, it is essential to know the area you plan to fill. However, the price of concrete depends on many factors, including location and the type of concrete that you order.
Getting the Right Order
When ordering your ready mix concrete supplies, there are a few essential facts you need to understand. Concrete comes in a variety of types, densities, and suits differently for various products. Additionally, there is a range of mixes, and they may vary by colour and texture. So before you order ready mix concrete, here's what you need to know.
● Density
Different construction requires different criteria of density. You shouldn't expect the one for the flooring to form a motor driveway. An area that needs to withstand heavy vehicles generally requires more percentage of concrete.
● Volume
Concrete all over the UK is sold in a cubic metre. Every ready mix concrete supplier follows this! A rectangular area is more comfortable with calculating. However, it can be problematic when calculating complicated angles. Therefore, we recommend breaking it down into shapes and working out the volumes appropriately. We don't recommend an online calculator. They may not show exact calculations. In case you need help, you can always speak to us.
● Water
There'll be a specific moisture level from your concrete supplier. If it is wet, it will spread more. In addition, you can always add water.
● Excess
Wastage is a common issue when purchasing ready mix concrete. You need to take into account what your site may need. We recommend buying 5-10% more than what you need. Discovering you've got fewer supplies when you need them the most is something you don't want to face.
Why Choose ST Concrete?
● Reliability: With a strong track record of successful projects, ST Concrete has built a reputation for reliability and consistency in delivering high-quality ready mix concrete.
● Quality Control: We prioritize quality control and adhere to stringent standards throughout production. Our experienced technicians conduct thorough testing to ensure our concrete meets the highest quality standards.
● Safety Measures: We prioritize the safety of our employees, customers, and the surrounding environment. Our operations adhere to strict safety protocols, ensuring a safe working environment and minimizing risks.
● Sustainable Practices: ST Concrete is committed to sustainability. We actively incorporate eco-friendly practices in our operations to reduce our carbon footprint and contribute to a greener future.
● Customer Support: Our dedicated customer support team is always ready to assist you. We respond promptly to queries, offer technical guidance, and ensure that your concrete requirements are met efficiently.
Get in Touch with ST Concrete Today
Ready to experience the difference of working with a premier ready mix concrete supplier? Contact ST Concrete today to discuss your project needs and discover how our innovative solutions can help you succeed.
FAQ'S
---
What is ready mix concrete?

> Concrete made in a batching plant and delivered to the construction site in a ready-to-use form is referred to as ready mix concrete. It is a precise blend of cement, aggregates, water, and additives to satisfy a particular project's demands.

Why should I choose ST Concrete as my ready mix concrete supplier?

> ST Concrete is a reputable and reliable ready mix concrete supplier known for its commitment to quality, sustainability, and customer satisfaction. We have a track record of successful projects, prioritize safety, and offer personalized solutions to meet your concrete needs.

What types of projects can ST Concrete cater to?

> ST Concrete caters to many residential, commercial, industrial, and infrastructure projects. Whether you need concrete for a small-scale construction or a large-scale project, we have the capacity and expertise to deliver.

Do you provide customized concrete mixes?

> Yes, we understand that different projects have unique requirements. Our team of experts can work with you to create customized concrete mixes tailored to your specific project needs, including specialized mixes like high-strength concrete, self-compacting concrete, or colored concrete.

What is the process of ordering ready mix concrete from ST Concrete?

> Ordering ready mix concrete from ST Concrete is a straightforward process. Contact our customer support team, provide the details of your project, including the required volume and specifications, and we will guide you through the ordering and delivery process.

How do you ensure the quality of your ready mix concrete?

> At ST Concrete, quality is our top priority. We adhere to strict quality control measures throughout the production process. Our experienced technicians conduct regular testing to ensure our concrete meets the highest industry standards and specifications.

What are your sustainability initiatives?

> ST Concrete is committed to sustainability. We actively incorporate eco-friendly practices into our operations, such as using low-emission vehicles, promoting concrete waste recycling, and exploring innovative ways to reduce our environmental impact.

Can ST Concrete handle projects with restricted access or low-volume concrete requirements?

> We specialize in handling projects with restricted access or low-volume concrete requirements. Our fleet of trucks and experienced drivers are well-equipped to navigate challenging sites and deliver the right amount of concrete to meet your project's needs.

What safety measures do you have in place?

> Safety is of utmost importance to us. We have strict safety protocols at our production facilities and transportation sites. Our employees undergo regular safety training, and we ensure that all necessary safety equipment and procedures are followed.

How can I contact ST Concrete for inquiries or to place an order?

> You can contact our customer support team by visiting our website at www.stconcrete.co.uk or by contacting our provided phone number. Our friendly team will be happy to assist you with any inquiries or concrete-related requirements you may have.

Can you deliver readymix concrete in my area?

> The ST Concrete works with independent concrete suppliers across the UK, so wherever you are in the country, we can arrange a ready mix concrete delivery directly to your site.

How do I prepare for readymix concrete delivery?

> To get ready for a ready-mix concrete delivery, follow these key steps:
• Clear the pouring area. Remove any debris, equipment or obstacles from the space where the concrete will be poured. This creates an open, accessible area for the concrete truck.
• Check there is adequate space. Make sure the concrete truck has enough room to safely maneuver and park near the pouring location. They will need clear access without tight squeezes.
• Clear the path. Eliminate any barricades or objects between the pouring area and where the truck can park. This smooths the route for the concrete vehicle.
• Do final checks. Walk through the pour site and framework to verify everything is ready. The formwork should be completed, with proper reinforcement installed. The site needs to be fully prepped and ready for concrete to arrive.
• Communicate with the driver. Discuss any access or space issues with the ready-mix supplier before delivery to coordinate.
• Taking these steps will help ensure an efficient, safe concrete pouring process when the ready-mix truck arrives on site.


What is the difference between readymix and normal concrete?

> Ready-mix concrete is concrete that is manufactured in a batch plant and delivered in a ready-to-use form to construction sites. Normal concrete is mixed on-site from cement, aggregates and water.
The main differences are:
• Ready-mix concrete is produced under controlled conditions in a batching plant according to a mix design. Normal concrete is mixed on-site so quality can vary due to human error in mixing.
• Ready-mix concrete uses precise weighing and mixing methods so the quality is consistent. Normal concrete relies on manual site batching so the mix ratio can vary.
• Ready-mix concrete is delivered in truck mixers that keep the concrete uniformly mixed during transportation. Normal concrete can segregate and bleed during site transportation.
• Ready-mix plants can incorporate admixtures into the concrete to achieve special properties. Admixtures are less consistently used in normal concrete.
• Ready-mix concrete is available on demand direct from the plant. Normal concrete requires manual site batching which takes time.


What is readymix concrete used for?

> Ready-mix concrete is a versatile material suitable for residential, commercial and industrial projects of all sizes. It can be used in a wide range of applications:
In the home, ready-mix concrete is ideal for pouring patio slabs, shed and garage foundations, basement and ground floor slabs, and other flatwork. It provides a durable surface for domestic spaces.
For commercial sites, ready-mix concrete facilitates construction of everything from parking garages, to tilt-up walls, columns, support beams, and elevated structural slabs. It's commonly used for business foundations and frameworks.
Heavy civil engineering projects also benefit from ready-mix concrete. It can readily be poured for highway pavings, bridge decks and supports, dams, and other major infrastructure.
If you are unsure whether ready-mix concrete fits your particular needs, please contact our team. We would be happy to provide expert advice about using ready-mix for your upcoming project. Our knowledgeable staff can ensure you choose the optimal concrete solution.