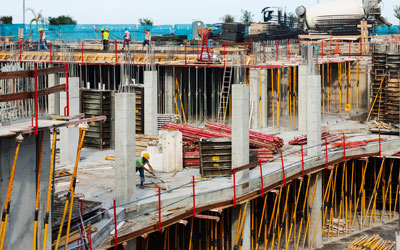 One of the most crucial components in the construction industry is Concrete. Approximately 30 to 50 per cent of the total cost of any structure is constituted by Concrete. The strength and durability of the structure being constructed depend on the quality of the Concrete. Another important aspect of construction is the barrow mix concrete service.
In Guildford, while building construction, if you aspire to get one of the best barrow mix concrete at an affordable price range, then the ST Concrete should be your choice. We, the ST Concrete, provides skilled and professional barrow mix service in Guildford.
Concrete Offers
For developing a beautiful construction day to day hard work and professional consistency is essential. We at ST Concrete serve barrow mix concrete team to the construction site who are highly skilled and have an underpinning knowledge about various types of constructions. Our barrow mix service in Guildford is hassle-free and caters service as per requirement.
We will provide proficient services to commercial and domestic sites and ensure quick and reliable service cost-effectively. Our adept technicians seek to cater:
Compressive strength
Holistic proportioning of ingredients
Skilled workability
Over the years' experience in the deliverance of work
On-time delivery
There are many concrete suppliers in the market construction industry. But to build your dream project and provide a safe shelter to your beloveds, you must choose the best service providers in Guildford. We chose quality upon quantity and, with our years of experience, have successfully constructed a few of the finest buildings in Guildford.
Efficiency
The advanced methods of barrow mix service are much better than the traditional ones. Previously, mixing methods included working onsite that involved a lot of labour and used to take long hours, emitted too much wastage, and never matched the deadline of the construction project. Apart from all these, the traditional mixing method was not cost-efficient, and the transportation issue was always a hazard.
With the evolution of technology, ST Concrete's barrow mix service in Guildford attained a different touch of efficiency. Moreover, we, the ST Concrete, have gladly accepted the advanced professional methods of barrow mix have employed and created a highly efficient and skilled barrow mix team that thrives on catering an eclectic range of barrow mix services in Guildford.
Versatility
Many such sites are inaccessible in Guildford. And for such construction sites, we are the best option to cater the barrow mix service in Guildford. Our barrow mix team is versatile and can serve tailor-made procedures to cater a quick and productive service to the site contractor. Our professional barrow mix service team can reach and cater to service promptly and rapidly at any type of terrain, slopping or steep.
Top-of-the-line
If you are looking for a concrete supplier who can assure you with structural durability, high-grade ready mix concrete, over the clock client support and cost-effective barrow mix service in Guilford, then you are on the right page. We at ST Concrete ensure you provide and deliver impeccable multiple concrete services as per your project requirement.
We also provide Readymix concrete construction service in Guildford