Concrete Boom Pump Hire in London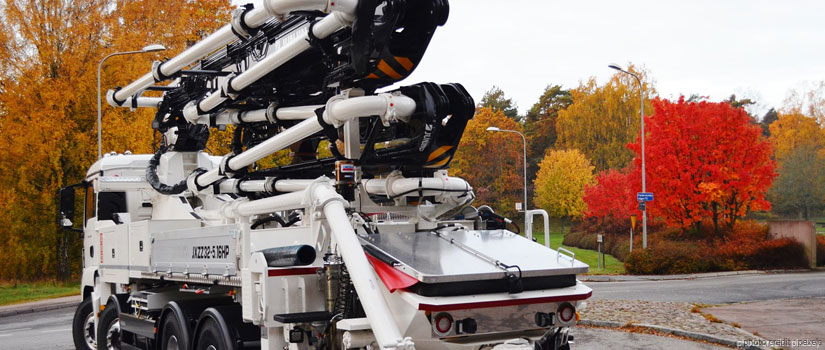 Get all your concrete supply requirements fulfilled with ST Concrete. We use advanced technology to transport concrete right at your site. As a leading concrete Boom pump supplier in London, we make the service more swift and efficient. What you can avail of is easy, safe and straightforward transportation directly to your site. Now getting a high-grade concrete supply is just a phone call away. Once you book the service, our team will reach your place and do the needful.
Team ST Concrete is a reliable at concrete line pump and concrete boom pump hire service. We have equipment that allows us to secure hard-to-reach areas and construction sites. Our highly qualified team of operators ensure cost-effective service. Also, having an advanced team by your side ensures reduced labour costs.
How's The Process?
Boom pumps can reach over walls and buildings. It pumps concrete along the hydraulic arm to the desired site. Likewise, boom pipes come in different sizes starting from 20m to 52m. Besides, all boom pipes carry additional 30 meters of line. This can be further extended on request. The boom pump comes with an efficiency to transport concrete at around 1m3 per minute.
These are perfect for sites that may accommodate a large vehicle and enable concrete to pour precisely as required.
Expert Technicians
All our specialists have decades of proficiency in providing service. Therefore you don't have to worry about the work quality when hiring ST Concrete. Likewise, we don't start our work blindly. There's a deep strategy when behind the service. Once we get the site detail, our engineers and technicians chalk out a supply plan. This includes plying concrete boom pumps for a smooth and efficient flow of the supply. Such plannings and strategies coordinate the supply lines, making the flow smooth.
Budget-Friendly Service
Construction works can take a toll on your finances. In fact, everyone waits to seal a deal that is affordable and reliable. Availing boom pump supply can help you cut the labour cost to a great extent. Also, ST Concrete includes premium quality equipment that speeds up the supply capability. Therefore we equally help you save your time. So, if you plan to find an organization that ensures affordable service, you should definitely count on ST Concrete and the team.
Our Vehicles
Boom pump runs a process where at one side, the preparation of concrete happens while on the other side, freshly prepared concrete is further shipped to the destination. The supply needs to be robust. At ST Concrete, we run powerful machines to destine the concrete at your site. Also, when it comes to environmental compliance, all our vehicle fall under Euro ⅚ category. Our trucks are versatile and easily manoeuvrable. They can swiftly access difficult areas.
With a trained logistics team, ST Concrete can reach out to any location and deliver the best quality supplies on time.
What Should You Expect?
As a boom pump specialist in London, ST Concrete provides service in London and its suburb areas. Here is what we provide
On-demand delivery service right at your site
Supplies for both commercial and domestic customers
Affordable quality concrete supply at the lowest price