Concrete Line Pump in London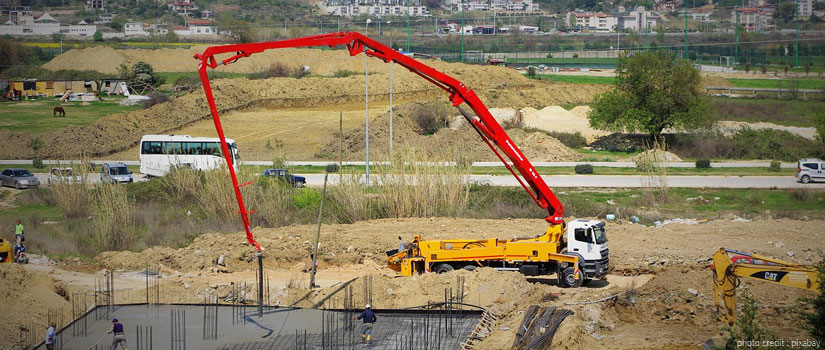 ST Concrete transport concrete supplies quickly and safely. We can pour ready mix concrete straight at your site with our concrete pumping system. Be it domestic or large scale commercial plant, ST Concrete is a reliable organisation that makes all your construction-related tasks easy. Our experts can supply concrete of all types using a line pump or boom pumpwith zero wastage.
Hiring a line pump is a quicker and cost-effective way to deliver concrete to the most challenging places. Team ST Concrete helps you transport concrete precisely as per the site. We are skilled enough to make supply swift and easy.
Site access issues on construction sites are quite common. Moreover, it becomes problematic when you need to supply fresh concrete and there is no way you can go for barrow service. Having an experienced team can smoothly make collection go easy. Give us a call, and we'll manage all the issues with our technologically advanced concrete line pump supply.
ST Concrete offers concrete line pumps in London and suburban areas at the quickest possible time. We're here to make your construction task smooth and easy.
Feature Laden Service
ST Concrete guarantees coordinated supply works. As you hire our experts, here's what you should expect from us
High quality and skilled team of operators
Cost-efficient and affordable service
All size and variant of line concrete pumps
Zero mess with less waste
Reachability to inaccessible areas
Preparing the Concrete
Once you confirm the order, our technicians will stack up the supplies in one of our concrete supply trucks. We quickly reach your site and start working on the production process. Usually, we deliver supplies on the same or in rarest of rare cases; we might reach out to you on the next day.
However, before our arrival, there are a handful of things we want our customers to notify. Some these include
Areas of accessibility
Site preparation for concrete supply
Laying pumping supplies
If there is an issue amongst the points mentioned above, our team prepares itself for a comprehensive supply facility.
Our Transportation
While ST Concrete ensures a quick and reliable transportation facility, line pump supply is needed to run an efficient supply system. There's a whole process when supplying concrete at your site via line pumps.
Our trucks come with a specialised feature that makes the line pump supply more convenient. With powerful engines and backup generators, team ST Concrete ensures faster and timely concrete delivery.
Length of Pipe Line
The standard length of pipeline supply is 50 meters. However, for areas that are hard to reach, a longer pipe can be adjusted to make the collection more efficient. However, it would be best to keep in mind that any requirement above the standard measurement may affect your cost. These are additional equipment that needs to be fitted for a secure delivery system.
Quick Service
Team ST Concrete believes in providing quick service. While you book our service, we will agree on a time window. Our goal is simple! ST Concrete ensures an efficient and well-communicated supply of ready mix concrete to the site.
Handling Logistical Challenges
Having been leading the industry for a very long time, we have come across many logistical challenges. However, with skilled technicians on our side, our customers' aspiration has been easily met. In case your site lies in the complex zone, our team will brief you about every option. We carry out work only after you give us the green signal.
Absolute Supply
If you are interested in an excellent quality line pump supply of ready mix concrete in London and suburban areas, ST Concrete is the one you should go with. We offer quick and quality work. What we confirm is zero wastage of concrete and provide a professional touch over it.