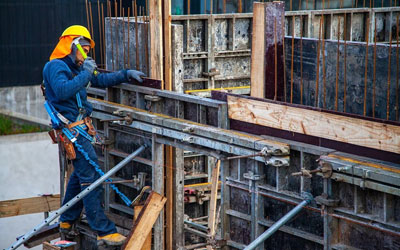 At ST Concrete, we are proud to be recognized as one of the most dependable and effective concrete suppliers in London. With our extensive industry experience, we are dedicated to providing the utmost quality concrete to meet all your construction requirements. Our commitment to ensuring customer satisfaction and utilizing advanced technology distinguishes us from our competitors, establishing us as the preferred option for all your concrete needs.
Why Choose ST Concrete as Your Concrete Supplier in London?
Being at the forefront of the concrete supply industry, we have successfully adjusted ourselves to the evolving demands of our valued customers. Our cutting-edge technology and proficient team of engineers and technicians work in harmony to consistently generate superior-quality concrete that caters to your precise requirements. Recognizing the significance of time in the construction sector, we continuously endeavor to provide our services with swiftness and efficiency.
Comprehensive Range of Services Offered by ST Concrete
ST Concrete provides an extensive range of services to meet your diverse concrete requirements. Our team of experts demonstrates meticulous attention to detail in every aspect of our work, guaranteeing that you receive exceptional service of the highest caliber. Our services include:
1. Ready Mix Concrete: Our ready mix concrete is produced using the latest technology, ensuring a consistent and high-quality product for your construction projects.
2. Onsite Mixed Concrete: We provide onsite mixed concrete tailored to your specific requirements, ensuring the perfect mix for your project.
3. Onsite Mixed Screed: Our onsite mixed screed service guarantees a smooth and level surface for your flooring needs.
4. Barrowing Service: Our efficient barrowing service ensures that your concrete is transported and placed precisely where you need it.
5. Line Pump: Our line pump service allows for the quick and efficient delivery of concrete to hard-to-reach areas.
6. Boom Pump: Our boom pump service enables us to deliver concrete to elevated locations, ensuring that your project proceeds smoothly and without delays.
Experience the ST Concrete Difference Today
Choose ST Concrete as your trusted concrete supplier in London and experience our exceptional service and commitment to quality. Contact us today to discuss your concrete needs, and let us provide you with the perfect solution for your construction project.
FAQs - ST Concrete Services
What makes ST Concrete one of the top concrete suppliers in London?

ST Concrete is known for delivering the best quality concrete in the shortest time. We specialize in supplying superior quality concrete and have been serving as a market leader in ready mix concrete supplies for a long time. Our dedication to using the latest technology ensures that we provide comprehensive solutions to meet your concrete requirements.

How does ST Concrete ensure the quality of its concrete?

At ST Concrete, we prioritize the quality of our concrete. We produce high-quality concrete using the latest machines, and our engineers and technicians utilize their intellectual understanding to meet your needs. We constantly stay updated with the latest technology to ensure that our concrete is of the highest standards.

How does ST Concrete value time and customer convenience?

We understand the importance of time and aim to make the process of obtaining concrete as seamless as possible for our customers. Our team walks the extra mile to ensure that you do not carry any burden when it comes to concrete supply. We strive to keep up with your schedule and deliver concrete promptly, respecting your project timelines.

What services does ST Concrete offer?

As a leading concrete supplier in London, ST Concrete offers a range of services to cater to your construction needs. Our team of professionals meticulously focuses on our working procedures to provide polished services. In addition to supplying ready mix concrete, we offer onsite mix concrete, Mix Screed etc. Feel free to explore our comprehensive range of services.

Can ST Concrete cater to specific project requirements?

Absolutely! At ST Concrete, we understand that every construction project has unique requirements. Our team is experienced in handling diverse projects, and we are committed to providing customized solutions. Whether you have specific mix designs, volume requirements, or other project specifications, we can tailor our services to meet your needs.

How can I get in touch with ST Concrete for my concrete requirements?

To discuss your concrete needs or to inquire about our services, you can reach out to us through [provide contact information]. Our friendly team is always ready to assist you and provide the necessary information or guidance regarding our concrete supply services in London.