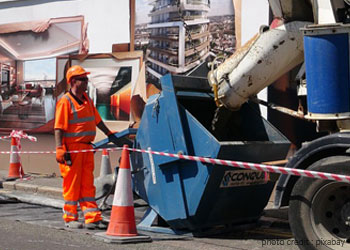 Screed failure is becoming a major cause of concern in the UK and so deciding upon the quality of screed mix, becomes vital! The screed can be either mixed on the site or obtained from the batch plant directly! But which is the better choice for you? What will work best for your site and budget? This becomes an important determinant and so here we have come up with some vital pros and cons of using Mix on site Screed or readily obtained screed from the factory! Have a detailed study before you make your choice!
Ready mix screed
Unlike the Mix on site Screed, a batch of ready to use screed is obtained directly from the concrete supplier in the UK and is manufactured and churned in the batch plant. Although it gives you the convenience of procurance and you do not have to go through the hassles of mixing it on the site, it costs you heavily on the pocket! The direct supply from the factory is an added advantage but it limits the flexibility of usage. You have to pre-determine the quantity you want to order. But if you are left with some surplus screed mix it all goes to thrash.
Moreover, the ready mix screed comes with retardants that delay the hardening time of the mixture. But if the transit takes longer than expected, the supply is on the verge of getting wasted. The limited flexibility and soaring costs make it a much-calculated choice.
Mix on site Screed
When you choose to get the screed mixed on the site, you can watch the entire process and have complete control over the manufacturing speed. Specialist contractors mostly prefer Mix on site Screed due to the higher flexibility and workmanship that it provides. The quality control measures are taken care of when on-site mixing process is on and customized quality can be achieved through skilled workmanship.
These Mix on site Screed are low on the pricing meter and you can choose to accelerate or decrease the production according to the capacity and requirement. This flexibility helps to slim down on the wastage count and what you get is an appropriate and accurate batch of Mix on site Screed. So whether it's a big project or small, plans and calculations can go for a toss, and here Mix on site Screed turns out to be the perfect pick!
Know The Topmost Construction Supplies Company In The UK!
No matter whether you choose to have your screed mix from the batch plant directly or choose Mix on site Screed, ST Concrete always provides you with correct assistance as the best supplier in the UK! With fair pricing and timely service, you can expect punctuality and quality at a budgeted cost! We are the leading construction supplies provider in Hempstead, UK. For any queries, feel free to visit our website and get in touch with us!