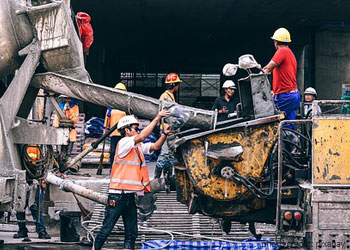 If you are wondering that this pandemic has raised the prices of construction materials beyond reach, tell let us tell you that you are wrong! This post-Covid phrase is in fact the most favourable for the construction industry and with the support from none other than the pioneer supplier like ST Concrete, you cannot ask for a better associate. Our Ready Mix Concrete London come under an affordable budget and you can make huge profits from your construction site work!
Why Order Ready Mix Concrete London?
Are you unable to decide on the concrete mix type? Do you get confused between Ready Mix Concrete London and the Onsite concrete mixing process! Well, we all are into the business to make profits, isn't it! And cheaper the raw materials for the site work, higher would be your profits. Besides being a cost-effective alternative to mixing the concrete on the site, you can also get your work done quickly and effectively.And with the best concrete supplier in London, you can be rest assured of the quality. Let us have a look at some of the advantages of buying Ready Mix Concrete London!
Bulk Delivery Allows You A Fast-Paced Work
After your engineer measures the concrete requirement, you can place your order and get Ready Mix Concrete London delivered directly to your site. This concrete is the perfect engineered mix as the entire churning process is carried out in huge batch plants under the expertise guidance. The ratio of the different concrete materials like sand, gravel, cement, water are all accurately measured to eliminate any chances of flaws. These ready to use mixtures are directly transited to your place in huge barrel trucks and further deposited through pump services. All this amplifies the construction speed and your project is complete without any delay!
No Need To Monitor The Tedious Mixing Process
When you carry out the mixing at your site, you need to manage a huge labour force and large concrete mixing machines. Unlike the Ready Mix Concrete London, you can make slight mistakes in the mixing ratio and the consistency of the mixture suffers with each batch. The management and the execution of the entire process get tedious and time-consuming. Plus the storage of these giant concrete mixing machines is also a pain point.
It's Fairly Priced and a Practical ChoiceFor Large Construction Sites
For large commercial sites, you need a bulk supply at cheaper rates. Only the Ready Mix Concrete London can give you the ease of quantity under budget. The quality of the mixture remains consistent throughout and you get the perfect homogeneous mixture from the batch plant. ST Concrete is your best partner for construction supplies as we believe in building customer's trust and will never dupe you with quality compromise. For any further information regarding Ready Mix Concrete London, you can call us to speak to our executives or visit our website.