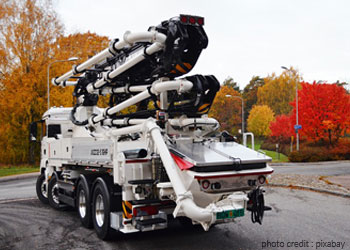 A concrete pump is concrete dumping equipment used in large scale construction sites. The engine-backed concrete pump machine has pipes or robotic arms to deposit the liquid concrete mix to inaccessible areas of the site. It makes the work quicker and eliminates wastage. The two most popular kind of concrete pumps are
Both of these have their own significant usage and advantages and disadvantages. To take your pick, you need to follow this blog and then decide diligently.
1.Concrete Boom Pump Or Truck-Mounted Concrete Pump
When you are associated with a large scale project like the construction of a highway or structuring a multi-storeyed building, you will require a Concrete Boom Pump. This kind of pump is mounted on huge trucks or trailers and has robotic arms for concrete deposit. This machine is controlled remotely and the robotic arms can be navigated as per the requirement. If there is a restrictionin the pouring area or if you need to reach an alleviated height and dump the concrete, then a Concrete Boom Pump is the ideal choice.
Major Benefits of Using Concrete Boom Pump!
Saves Labour Cost
A Concrete Boom Pump is known to save on labour cost and other miscellaneous expenses drastically and you can thereby save on your construction budget. The dependency on electric equipment reduces the need for manual labour and thereby managing a huge man-force is not a concern.
Quick Concrete Deposition
The next advantage of the Concrete Boom Pump is the pace and speed it gives to the project. With high-speed concrete deposition at the desired site, this is the most preferred concrete dumping pump for large scale site where the work needs to be done within the deadline.
Suitable for Bulk Supply
As discussed earlier, a boom pump can deposit a huge quantity of concrete in a short time. So if your site requires bulk supply, then no other form of pumping rather than a Concrete Boom Pump will suffice your needs.
2.Line Pump Concrete
Another type of concrete pump popular among engineers is the line pump concrete. With a long hose pipe for deposition of concrete mixture, this type is suitable for sidewalks or ground-level concrete deposition. The flexible steel hose or rubber hose can be directed to the site of work and you can get your concrete dumped.
Advantages of Line Pump
• This is suitable for base-level deposition of concrete. If there is a road construction or a pathway repairing, you can conveniently use a line pump.
• It is a slow procedure and suitable for a small project.
Whatever be your requirement, a concrete pump is always a suitable and preferred option for new-age construction work. ST Concrete offers you both Concrete Boom Pump and line pump services in the UK and is also the leading supplier of construction materials. You can choose the concrete pump based on your construction site, budget, and the area of deposition!