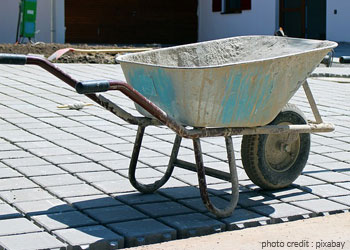 Your construction site may require you to deposit few small materials at remote places and difficult inaccessible areas where even a line pump and boom pump seems impractical to reach! The liquid screed, the mixed concrete, the gravel, stones, small bricks, and many other construction materials are carried from one place to another. Here comes the role of Concrete Wheelbarrow Service. It helps you to accurately dispose of your supplies wherever you want. These are manual mechanical equipment and so you have complete control over them.
Wheelbarrow- What Is It And How It Works?
You must have seen a traditional cart with a wheel at the front and handles at the rear hand. The handles were lifted after the tub was filled and it was scrolled for the transition purpose. This entire conventional setup was given a makeover and it was made apt to supply heavy construction materials with some system upgrade. The rear end of the wheelbarrow can be rested on the supporting stands and it helps to keep the entire structure motionless while loading or unloading the cart. All types of heavy and bulky construction supplies can be easily transported with the help of Concrete Wheelbarrow Service.
Reasons To Choose Concrete Wheelbarrow ServiceIn Hemel Hempstead!
If you are into the construction business, you know that you cannot do without the essential requisite equipment, tools, and construction materials. A good and durable structure needs several supporting aids to give success to the planning. And a Concrete Wheelbarrow Service is a basic component of construction work that you cannot ignore.
1. Economical Alternative
A Concrete Wheelbarrow Service is a budget-friendly alternative to high-cost pump services and it is appropriate for small scale projects as well as mini domestic projects. In small projects, you cannot go about splurging money on the tools and equipment and a major part of the allotted budget goes to acquire high-quality materials. A Concrete Wheelbarrow Service is a manually operated system and so it gives you complete flexibility and cost-cut.
2. No Fear of Power-Failure
A Concrete Wheelbarrow Service is a manual service and has zero dependencies on electricity!You do not need to fear power-cut and work hindrance. The entire process can be carried on under your supervision and precise managing becomes possible.
3. Higher Accessibility
The one good thing about availing Concrete Wheelbarrow Service from ST Concrete is that it gives you higher accessibility to even the narrowest of lanes and areas. Where line pump and boom pump fails to provide you with sufficient support and precise deposition, a Concrete Wheelbarrow Servicecomes to your rescue.
4. A Practical Option for Deposition of Smaller Quantities
Suppose if it's a domestic project and you do not need to work with bulk quantities of concrete or screed, here employing a pump service is a foolish decision as the costs and the budget will over-shadow the actual amount of work required. A Concrete Wheelbarrow Service from a reputable company in the UK- ST CONCRETE will be your best choice and right decision!