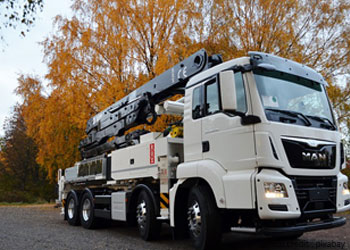 Concrete is the main requirement of any construction project. Whether it's a small scale domestic work or a large construction site, concrete is the basic raw material used. This concrete needs to be transited to the exact place of deposition at the site. And here is where pump services are required. You can avail of the differentConcrete Pump Hireand can sort your requirements. Here let us give you a brief about the kind of pumps you can avail of and the advantages of using them.
In earlier times, concrete was dumped in large buckets and was carried off by cranes, and deposited at the location. But this method was not practical as only one tub was lifted at a time that could fill barely two cubic yards of concrete. So came the existence of concrete pumps where large volumes could be transited in a short span of time. This gave pace to the work as well as brought down the cost. It has now become an important part of any construction project and has numerous benefits to its name.
Types OfConcrete Pump HireYou Can Avail Of!
Boom Pump Concrete
If you are working in a relatively larger project where volume and speed is the prime concern,a boom pump is what you need. It is a truck-mounted pump with large robotic arms that deposits a vast volume of concrete in the place of work. Highways, road construction, multi-storeyed buildings are places where you need boom Concrete Pump Hire. This equipment is the best solution for a budget-friendly work execution as it reduces manual labour to a significant extent. The poring accuracy makes the boom pump a dependable choice.
Line Pump Concrete
The next thing is the concrete line pump that is suitable for ground-level deposition of concrete or screed mix. This Concrete Pump Hireuses a steel hose pipe to dump concrete mixture where required. You can control the volume and scrutinize the whole process in front of you. It is suitable for smaller domestic works or ground projects such as the construction of a swimming pool. This pump service is economical and a fast process and makes your job easy. Narrow inaccessible areas can be catered to by using theseConcrete Pump Hire and accuracy can be achieved.
If you go for Concrete Pump Hire, you take a smart decision as the benefits are manifold. Both the boom pump and the line pump are efficient in their own ways and are an economical alternative as compared to manual labour and wheelbarrow service. Concrete pumping by this mechanical equipment is unaffected by the weather conditions and you have zero material wastage thereby increasing the profits. No spills and faster work makes the entire work process convenient and cost-effective. So if you are considering Concrete Pump Hirefor your upcoming project, do not forget to consult ST Concrete for a quick quotation and a value-for-money deal.