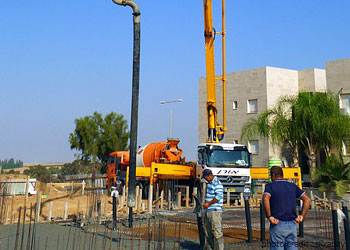 With the increasing usage of concrete in the market, the concrete pumping process got innovated. It is imperative to know about the different concrete pumping methods to save your time and money in the long run. Promoters for builders always try to lessen the cost of on-site construction wherever possible.
What is the function of a concrete line pump?
A concrete line pump is a type of pumping machinery used to deposit liquid concrete. This concrete pumping machinery makes use of rubber hoses that remain attached to the outlet and need to get placed on the trailer. It offers the best solution when it comes to horizontal pumping. A long course of the pump allows the operator to pour concrete in a hassle-free manner. This versatile rubber hose is flexible and extendable. Line pumps allow the operator to pump longer distances in comparison to traditional machinery. Due to the versatility offered by the line pump, it gained popularity around residential construction sites.
As mentioned above, a concrete line pump is a flexible and versatile piece of machinery. Concrete pumps handle lesser quantities of concrete when compared with other methodologies like Boom pumping. It gets used in reconstructing driveway, developing swimming pools, and various other small-scale construction sites
Likewise, operators using line pumps can push a lot of concrete in comparatively less time. It makes the concrete line pump a favorite choice among the builders, as it saves a fair amount of money. It is an affordable alternative to boom pumping or high-rise concrete pumping. Keeping the cost-effectiveness aside, it is recommendable to use machinery that meets your requirements.
The machine is several times faster and efficient than we are. It is the reason why you should consider using tools and machinery. The efficiency and speed of a concrete line pumpare beyond your expectation. If you try to complete the process using manual labour, you will be wasting time and effort trying to manage every single step.
With a concrete line pump, you can expect consistency at your construction site. Work-in-progress without delay is the key to complete a project successfully. With line pumps, you have total control over the work and can choose to continue or stop the process at your convenience.
Best Concrete Supplier in the UK
If you are looking forward to chasing a line pump service, look no further than ST Concrete. The market is full of concrete suppliers, so choosing the right supplier can be a daunting task. It is a wise choice to go for an organization with years of industry experience. With STConcrete, you can expect professionalism. We never compromise on quality. We are second to none when it comes to technology.
ST Concrete uses the latest machinery for waste management through proper recycling. We offer a comprehensive solution through versatile and flexible line pump facilities. Whether it is a large scale or a small scale project, we deliver high-quality services at reasonable rates.