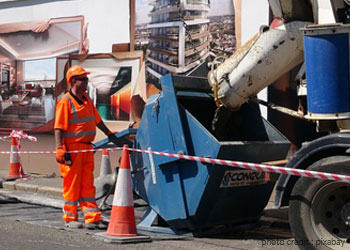 A concrete industry, like others, is now going digital. With the rise in the pandemic, you can now order concrete online from almost anywhere. Also, the quality of concrete applied to your construction directly impacts strength and durability. Therefore, any concrete supplier that offers online service ensures refined quality service. The advantage of using ready mix concrete comes with packed up features. Not only do you have access to data about the mix, but you also get efficient service with zero wastage.
Preparing concrete on the worksite can be pretty tedious. Not only is it time-consuming but also expensive. Also, everybody knows about the hassle of getting bags of cement loaded, sand gravels delivered, and other additives added. Moreover, disbalance in the concrete ratio may cost a considerable burden.
But this doesn't happen when you have the option to order concrete online. Besides, here's what you can avail yourself of with ST Concrete.
Quality and Consistency
One of the advantages of ready mix concrete in London is that you get ready to mix concrete as per your requirement. The use of ready-mix concrete has allowed a significantly speedy construction process. Here, concrete companies use high-tech equipment, finished products, and raw materials above the market standard. Also, you have the option to get detail about the products used for your requirement.
Efficiency
While the traditional mixing method included working onsite with a lot of labour and long periods to complete any project, the ready mix concrete suppliers are now adapting to the latest advent of technology. As a result, manufacturing your ready mix concrete requires less supervision, saving energy and resources. Also, our company guarantees speedy processing of concrete. Concrete can be done at 30-45 cubic meters per hour compared to plants that ensure 15-20 cubic meters per hour.
Delivery
Delivery matters to a great extent when it comes to concrete supply. One of the primary goals of a ready mix concrete London is to offer the best quality materials within the needed time. Also, a ready mix concrete supplier cuts the hassle of accumulating the materials, preparing the mix, and all other issues. What the supplier does is simply process the concrete and supply it at your site.
Reduced Wastage
Good handling and proper mixing practices help to reduce the consumption of cement by 10-12%. Also, reducing storage space for the basic materials at the site is another way of stopping wastage. All RMC trucks come with power supply machines. These machines help avoid wastage of synthesized concrete at your location.
Environment Friendly
Conserving the environment is the top-most priority in the current times. Human beings are responsible for severe climate changes. Previously concrete preparation involved several issues like dust emission and the release of pollutants into the atmosphere. However, this has been brought under control with the help of technology.
Final Wrap
Having a professional ready mix concrete supplier will help you meet all your expectations. At ST Concrete, we ensure swift service at a reasonable price.