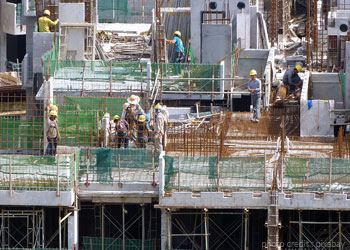 Today's generation is all about time management and technological advancement. Using ready mix concrete for construction is a huge saviour in the field of time management advancements that have been developed against the onsite production of concrete. Now factory mixed concrete has been brought to market, which saves labour.
To some extent, it also provides the labourers with much more time to complete the construction work efficiently without worrying about the tools required for mixing the cement with adequate amounts of water. Let us look at the advantages of using a ready mix concrete for construction!
Saves Time And Manual Labour
Ready mix concrete provides the labourers with a mixed batch of concrete and saves the time and effort of the labourers. It is better than hand-mixing of the concrete because during hand mixing, we need to take care of the amount of water we add to the concrete, but the ready mix concrete provides us with accurate mixture that is easy to work with.
Thus, it saves our time and laborious effort as well as reduces the wastage of produce. Poor control on the input materials and mixing methods in the case of onsite mix concrete is solved in the factory mix concrete method. Ready-mix manufacturer has less need for human labours; hence the chances of human errors in construction and mixing are reduced.
Efficiency and Quality of Production
The quality of production is an essential factor in any work and the ready mix concrete guarantees higher durability, consistency, and sustainability. Also, the quality of construction gets affected in a positive way by the usage of factory produce concrete. Ready concrete mixture acts as a professional element in the production and adds up as an advantage.
Reduction of Pollution
The most important part of using ready mix concrete is that it saves the environment from noise pollution, and no mechanical tools are to be used for mixing cement. Thus natural surrounding is saved, and the dust caused during production and mixing is reduced. As ready mix concrete makes use of bulk concrete instead of small bags of cement, environmental pollution is reduced to a great extent.
Price Affordability
The best part of using ready mix concrete is that it reduces the purchase of tools and machineries and saves a considerable amount of money spent on raw materials and labour wages! Money is a huge factor for any project. And a smart choice can help you save a considerable amount.
Choosing the Best Ready Mix Concrete Supplier
ST Concrete is the finest supplier of ready mix concrete across UK. We are an industry expert and have been serving the construction industry since ages. Our high quality concrete mix gives you the perfect foundation and durability that your site needs. We also offer other services and support you with all the sales queries. Our executives are highly cooperative and are available for a quick discussion. Visit our website to know more about us!