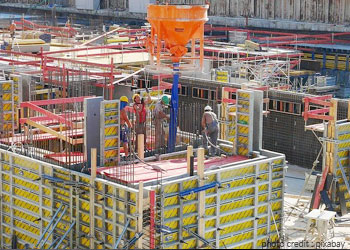 Ready-mix concrete is considered a preferable option in terms of constructing buildings. It is used majorly for commercial construction projects to maintain consistency of quality. In the era of modern construction, concrete plays a prominent role in determining the durability of construction sites.
Ready-mix concrete provides quality, durability, and strength to the buildings, bridges, dams and other structures. It consists of a combination of cement aggregates, water, and course gravel. Further, it is categorized into transit mixed concrete, central mixed concrete, and shrink mixed concrete.
The mixed concrete serves manufacturing units through transport services and ensures that it is properly segregated. Central mixed concrete is the type of concrete that balances stationary units to transportation until the construction site.Lastly, Shrink mixed concrete has ready-to-use concrete that has been prepared entirely at a construction site. To get benefited from the different levels of huddles, variations are altered at every level.
Below is mentioned some of the advantages of using ready-mix concrete:
• Consistent level of quality
Ready-mix concrete provides a consistent level of quality as the mixture is homogeneous. It provides ease in different applications processes. The concrete is churned out in huge batch plants which have automated settings for accurate concrete mixing.
• Customizable factor
Ready-mix concrete has the versatility factor of customization. It is used more conveniently as compared to other concrete cement. It can also be used as per the requirements of a specific construction project. It is embarked as ready to use concrete without any hassle in terms of other alternatives. Hence, it is the best suitable option under various requirements of the construction projects.
• Less wastage of material
Ready-mix concrete has usage of minimal material, which is again a high profitable thing. It requires core ingredients like cement, water, and other aggregates. The mixing is thoroughly automated resulting is less labour needs. The fully controlled plants and machineries eliminate wastage and keep the cost under control. Moreover, the site requirements can be calculated before placing the order for ready mix supplies and this rules out wastage.
• Environment friendly
It is an environmentally friendly choice as the mixing is done under enclosed units. No pollution or hazardous emission is produced.Unlike the onsite mixing,ready mix concrete has minimal environmental damage.
• Cost-effective
In this concrete type, the manufacturing is done through simply mixing appropriate ratio of the raw materials and the concrete is ready to use in lesser time. Although, ready-mix concrete is suitable for huge commercial projects, yet it reduces the overall costs significantly.
ST Concrete is the most suitable concrete supplier in the London and adjoining areas and we offer the lowest rates on our premium quality supplies. Moreover you get complete after sales support and our executives are always reachable through our excellent customer support desk. Apart from the ready mix concrete, we also supply screed, and other construction machineries for the sites. Contact us for any further details or visit our website to know more about us!