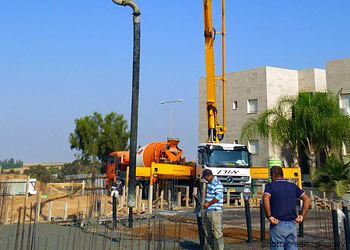 With the progressions in science and technology, we have access to those things which our ancestors could only dreamt of. If we keep up with the modern circle, we will fare well in our career and business. Many innovations that changed human lives turned out to be positive. One of the human inventions, say, concrete boom pump, came out for good. A boom concrete pump is supported by a truck and has a long arm that stretches to gush out concrete for construction purposes.
Why Are Boom Concrete Pumps Necessary?
We cannot deny the reality that those companies who don't update themselves with technology lag behind those who upgrade themselves. If we continue with outdated production methods, we would lose a lot of customers, and there may be requirements to shut down the business. The concrete boom pumphas numerous advantages and hastened service, accurate concrete deposit, money saving are few noteworthy benefits. Let us have a look at these advantages in details!
Saves Time
Construction with a concrete boom pump saves sufficient time. In an age where skilful work has more importance than hard work, choosing concrete pumps turns out reasonable and even gives time for relaxation. These pumps are easy to employ and are productive machines, accommodating to meet various demands, thereby removing the obstacles. Emphasis can, thus, be given to other areas, and projects can be completed within the deadline.
Reduces labour costs
With the introduction of concrete boom pump, the need for labour is eliminated. Manual work involves a lot of wastage of time. Sometimes, the area of construction is such that it is inaccessible by the living beings. Moreover, labour absenteeism further adds to the problem. So to eliminate such problems and satisfy customers, machines are necessary. These machines are flexible and fit the needs of the company.
High profits
When a company invests in a profitable venture, it is sure to become successful. With the population explosion, the need for buildings, hospitals, malls has increased. This calls out for a need to adopt an efficient, nicely competent technology. It creates a good image and the ability to face cutthroat competition.
Thus, this machine, with its various benefits, commits to serving society. It is eco friendly to use concrete boom pumpas it reduces environmental waste and emission. ST concrete being the pioneer in the field of construction supplies has been the rightful company to hire the services of concrete pumping. Here is what we offer:
Timely Services/Supplies- Expect to get the quickest delivery of supply materials and the fastest service in the UK. We respond to your orders and requests at the earliest and provide you with the quickest service.
Affordable Rates- Our rates are kept affordable so that both domestic construction work and high-class projects can benefit from us.
Responsive Customer Support Team- This is the best aspect of ST Concrete making it the most recommended name in the city. We never fail to resolve any issues once you buy from us. Our team is proactive in offering you all the possible support.