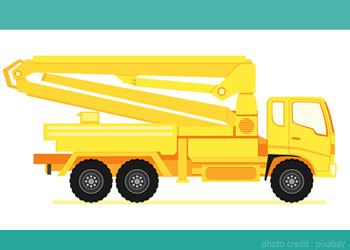 A concrete pump is a machine that every construction site would need. Concrete pumps facilitate to transfer liquid concrete in an area where it's impractical to position concrete by labourers. It delivers concrete precisely where you need it. There are two major variants offered when hiring concrete pumps- Line Pump Concrete and boom pump concrete. But how would someone know which is the right alternative!
Which type of pump you need depends on how massive or tiny your project is. Perceive the need of your project along with limitations that can be present. Concentrating on factors like area, accessibility, scale, and application will all decide which concrete pump will be best for your forthcoming job.
Let's find out which will be suitable for your project.
Project Scale
Generally, a boom pump concrete is better suited for massive projects, while a line pump is only suitable for small-scale projects.
Concrete Line Pump
The line pump concrete conjointly referred to as a stationary pump, is a compact unit that features versatile concrete placing hoses manually hooked up to a machine outlet and other extension hoses to succeed in the desired running destination.
Whereas line pump concrete rate is slower than boom pumps, making them a lot more practical for smaller-scale construction work. Line pump, as opposed to a boom pump, wouldn't fit suitable for massive works like construction of bridges, flyovers, residential complexes, etc. It will exactly deliver between 20 and 90 cubic yards of concrete an hour.
So we can use a line pump concretefor a project like building swimming pools, concrete slabs and repaving a road.
Concrete Boom Pump
Boom pump concrete is the mother of all concrete running action, referred to as "truck-mounted pump." This kind of pump uses an arm ('boom') that is controlled remotely by the driver and applies concrete precisely where you would like it.
It's ideal for delivering concrete with an excellent level of accuracy from considerable heights in a brief amount of your time and truly reduces labour prices. Additionally, boom pump concrete can pour concrete more accurately than alternative pumping methods.
If you're doing a bigger project, you would certainly need a boom pump, which can spit out over 150 cubic yards of concrete per hour and conjointly higher for reach higher into the air.
In contrast, a line pump concretewill be a better option if you are doing a smaller industrial job. This is because it may not pour quickly. However, it is decent for the necessity of smaller projects, and you'll save some money as well.
What is the Best Suited Concrete Pumping System?
As said earlier, the scale and the budget are the major determinants of the concrete pumps and the faster you need to pace up the work, the demand for theboom pump concrete increases. You get all the choices of concrete pumps at the ST Concrete and can discuss your requisite with us. Reach out to the team through the website and call us to know more!