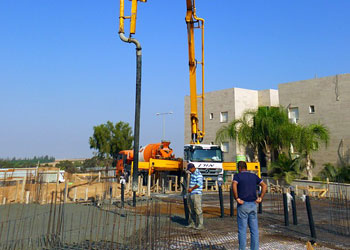 Since childhood we are used to the term "safety first" but we get to know the true meaning of it once we get matured. Furthermore, this particular phrase is applicable in every professional sector especially in heavy industries like construction sites. If you have ever been to a construction site you must have noticed gigantic trucks carrying concrete and pouring it to the site. This task involves efficiency, safety, knowledge and physical fitness which can only be achieved by professional concrete pumping operators.
A professional concrete pumping operator has to operate three different devices simultaneously to complete the job while maintaining safety. These three different devices are the truck mount, the boom pump and the line pump. Naturally, it involves a lot of training as a person needs to be an excellent heavy-duty driver along with an experienced operator.
Thus to get the utmost safety and a hassle-free construction project it is advisable to hire certified Professional concrete pumpingprofessionals. Let see some of the reasons behind hiring a professional.
Extensive training with the latest equipment
Training is one of the most important parts of becoming a certified concrete pumping professional. A training module includes both on the job training and classroom training by using all cutting edge equipment and heavy machinery. A profound training helps them to solve any minor on-ground issues by themselves.
Professional training includes the following
Heavy-duty truck driving and licence of commercial driving
In-depth knowledge of pump and boom parts and how to operate them safely
General construction knowledge and site safety policies
Preventative measures and maintenance of equipment
Emergency on-site troubleshooting and repair
Safety and preventive measures
Good training also includes on job safety training as heavy machinery and hard labour work are associated with it.
Insurance
Insurance companies always provide insurance to professional and certified pump operators that cover job hazards and loss and thus save money.
Knowledge of hydraulics and diesel engine
A trained professional concrete pumping operator is well versed with hydraulics troubleshooting and also has a good knowledge of diesel engines.
Good concrete knowledge
A certified professional has in-depth knowledge of concrete mixing like when water should be added to the mixer and in what quantity? What will be the ideal temperature etc,
Regular training
Technology is booming every day and the latest methods, tools are adding up daily. That's why ongoing training is necessary. Moreover, every certified professional is refined and tested over years to maximize output.
Time-saving with minimal wastage
A professional concrete pumping operator knows the correct ways of minimising project expenditure by minimising mistakes and wastage.
Hope the above information is enough for you to understand the efficiency and benefits associated with hiring a professional concrete pumpingoperator for your construction project. We at ST Concrete offer you professional services related to site work. So be it hiring a service or a machinery or buying your stock of ready mix concrete, we are there to help!