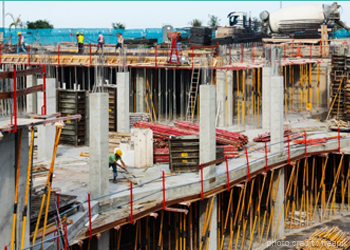 Concrete is the most basic component of any construction project. The strength and durability of a structure are determined by the quality of the concrete utilised. However, many individuals are unaware of the fact that many building material supplies can be purchased online, and they cost you lower than the ones bought from the regular marketplace. Concrete may now be ordered online but with certain criteria and checks. Order concrete online emphasises the need of purchasing it from a reputable supplier. You can't just trust anybody with your purchases, and only a reputable provider like ST Concrete can guarantee you the best pricing and quality.
Before you go out and get your supplies and order concrete online, there are a few things to consider.
Quality of Concrete
With so many various kinds of concrete mixes in the market, you must pick the one that best suits your needs. Determine if you need ready-mix concrete or whether an onsite mixing technique is more appropriate for your project and budget! You may order concrete online based on your specifications so thatyou have no regrets after wards.
Trust In The Supplier is the Key Aspect
Because of the pandemic, most companies have gone online, and we now depend significantly on the internet ordering system. Concrete and other building materials may now be ordered directly from the digital platform. However, one key issue that we have is the supply quality. Buying your construction products from a reliable company like ST CONCRETEensures that you make the best decision. So, the next time you're considering to proceed withorder concrete online, remember to visit our website
Prices Play An Important Role
There's a popular misconception that virtual purchases are more costly than offline purchases and that you'll end up spending more money on the concrete supplies. But let us tell you that if you choose a reliable concrete company, you actually land up spending less than what you would have actually done. ST CONCRETE is an example of a supplier with a fair pricing policy for both new and existing customers. Our rates are the lowest in the markets and you can easily compare and make your own decisions. The quality and the rates are relevant to high grade concrete supplies in the UK
Check the Payment System
It is simple and fast to make a digital payment, and a reliable provider will have a safe and secure payment channel. When you order concrete online, always contact a legitimate firm. Examine the websites' privacy policies and cookie policies and the ease of purchasing using credit cards, debit cards, PayPal, and other online wallets.
We can safely conclude that the pandemic has taught us numerous things and online purchases are one of them. So if you are looking forward to break the conventional methods to gain some ease and convenience, then order concrete online and make your business a success! ST concrete is always there to support you and your company.