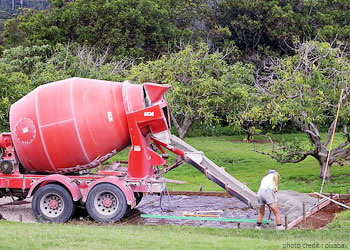 Ready Mixed Concrete is a custom-made concrete manufactured in a factory or batching plant. The ready-mix concrete is transported to the job site in transit mixers mounted on a truck. It is more durable and long-lasting. Because of professional processing, the outcome is more accurate and of higher quality. This concrete manufacturing technology can also be used to create customised concrete combinations for bespoke requirements.
Know The Different Types of Ready-Mixed Concrete
There are three varieties of ready mix concrete (RMC) based on how the various elements are mixed, as shown below:
• Concrete that has been transit blended
• Concrete that has been mixed and shrunk
• Concrete mixed in the factory
1. Ready-mix concrete (transit-blended)
Because all of the essential materials, including water, are charged directly into the truck mixer, it is also known as dry-batched concrete. During the material loading, the mixer drum rotates quickly at charging speed, then slowly at agitating speed.
2. Shrunk ready-mix concrete
The concrete is partially mixed in the plant mixer then balanced in the truck-mounted drum mixer. The amount of mixing done in the transit mixer depends on the mixing that was done in the central mixing plant. To determine the amount of mixing required by the drum mixer, tests should be carried out.
3. Concrete that has been mixed entirely in factories
Here the concrete is thoroughly mixed before loading it into the truck mixer. The facility is also known as a wet-batch or pre-mix plant. The truck mixer solely serves as an agitator while transporting the concrete. Non-agitating units or pump trucks can also be employed when the workability requirement is low.
Ready-Mixed Concrete- Benefits & Advantages
Suppliers like ST Concrete employ advanced technology and reliable techniques to produce high-quality RMC. There is stringent control over material testing, process parameters, and ongoing monitoring of essential procedures during the manufacturing process. In the case of onsite mix concrete, poor control over the input materials, batching, and mixing procedures are replaced by ready-mix concrete.
Some Notable Benefits
• Cement usage can be reduced by 10% to 12% with better handling and mixing practices. The use of admixtures and other materials will aid in the reduction of cement use.
• The ready concrete mix has a wide range of applications. It is set in place using the best concrete placement techniques.
• Because ready mix concrete uses bulk concrete instead of sacks of cement, it saves cement and reduces dust.
• Saving cement will save energy and materials.
• Less consumption means less cement manufacturing, which means less pollution.
• A more durable structure is constructed, resulting in increased life, lesser maintenance.
• Because ready-mix concrete is less reliant on human labour, the risk of human errors is lessened. This will also minimise the reliance on low-wage work.
• Concrete in minor or significant amounts, according to specifications, is delivered on time to the job site. This eliminates the need for on-site storage of the raw materials. There is no downtime due to the ready availability.
Final Say
Ready Mix concrete can resolve a lot of hassle that onsite mixture invites and it is the first choice of top engineers in the UK. Contact the right concrete supplier near you and discuss your requirements today!