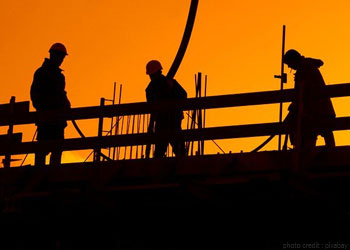 A line pump concrete is a type of pumping machine used to push liquid concrete through a horizontal line. It is generally used for domestic construction or when building a swimming pool or basement. The concrete line pump requires rubber hoses to connect to its outlet and be transported on a trailer.
If your construction site is large, additional extension hoses should be incorporated to ensure that the concrete is deposited smoothly and through a larger distance. These hoses are always manually attached, allowing for efficient concrete distribution. As the trailer remains stationed at a particular place, 'Stationary pump' is another name for a line pump concrete.
Fishing line pumps are the greatest choice for construction locations that require less concrete. Examples include walkways and sidepaths. The accuracy of the concrete placement, the control management, and various other factors make the line pump concrete a viable solution for new-generation site work.
Know The Purpose Of Line Pump Concrete
Efficiency
When it comes to dumping concrete on a construction site, you'll need to locate the pipelines accurately. The line pump concrete will ensure that the concrete is delivered on schedule and no chaos is created.
Less Expensive And Reduced Manual Work
Employing workers to transport concrete to a construction site is exhausting, sluggish, and costly. The use of line pump concrete is suggested as they will supply the correct quantity at the right time. This will save time and money on the labour you employed to complete such activities.
Unaltered Concrete
The concrete is nearly impervious to extreme weather conditions such as direct sunlight and rain. These factors may make it more likely that concrete will be too dry or too liquefied to be used on the worksite. As a result, such situations can be avoided using line pump concrete, which can perform without being impacted by adverse circumstances.
Accessibility
Certain building locations may be difficult to reach, and supplying concrete may be challenging at such avenues. Line pump concrete will be an ideal choice for quickly supplying concrete to such inaccessible locations. The long hose pipes can be stretched and adjusted as per the requirements, and things can be modified as per ease.
ST Concrete is the best company specializing in construction materials and supplies in the UK.
Things That Make us Best from the Rest
Quick Delivery- We offer concrete & screed mix and other tools and supplements needed by any ongoing project, and we offer you the shortest delivery span with our fast services.
Affordable Price- Our prices and qualities match your expectations, and we also offer an obligation free quote for your requirements.
Instant Customer Support- In case of any difficulty, we are accessible over call or email, and our executives take no time to resolve your concerns.
Apart from offering cost-effective solutions to the construction industry, we are known for our priceless business models and ethics. The versatility of choices that you get here is unmatchable. We stand as the most recommended choice for line pump concrete by both professional and non-professionals.