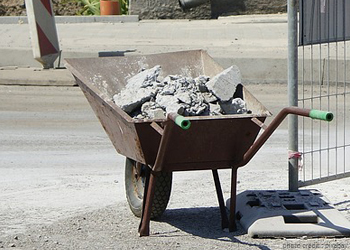 Concrete Wheelbarrow Service is a commonly searched term on popular search engines. The wheelbarrow is a manual and conventional method of transporting substances from one place to another. It is frequently used in construction sites as the labourers need to deposit concrete and other materials to their appropriate places. ST Concrete is the most renowned organisation for hiring wheelbarrow services in the UK. There are several benefits of opting for a wheelbarrow, and here in the article, we will discuss the same.
We Offer Environmentally Friendly Service
Our Concrete Wheelbarrow Service is fundamentally eco-friendly because it produces no smoke and helps in reducing air pollution. When it comes to barrowing ready mix concrete, we also assign skilled employees at household and commercial construction sites.
Our operations are routinely updated with the most recent or cutting-edge concrete production machines, which reduce waste by continuously recycling. Furthermore, we endeavour to create products that cause zero waste.
We Provide Service That Is Both Advanced And Effective
Our Concrete Wheelbarrow Service is far superior to the traditional ones. Previously, mixing methods included working onsite, which required a lot of labour and took a long time to transport, emitted a lot of waste, and never fulfilled the time-bandwidth. Moreover, in a conventional system, either the wheels were not adequately coupled, or the wheelbarrow's surface had cracks in it, and so on.
We always keep our wheelbarrows in good working order so that site technicians don't get wounded while transporting big bricks, blocks, concrete slabs, and other materials to various building sites. This makes us one of the most after names for Concrete Wheelbarrow Service and construction material supplies in the UK.
Thanks to technological advancements, ST Concrete's classic Concrete Wheelbarrow Service has gained a new efficiency level. Our team has enthusiastically adopted advanced barrowing methods. With swift and effective transportation of concrete or other building raw materials, our Concrete Wheelbarrow Service will strengthen the structural durability and ability to withstand natural disasters of your construction, along with saving you a lot of time.
Get International Standard Concrete Wheelbarrow Service
Our barrowing service is tailored to the needs of our valued clients while adhering to worldwide construction industry norms and protocols. Not only do we keep our wheelbarrows in good working order to ensure timely delivery, but our specialists also clean up after work if the area becomes soiled when transporting heavy raw materials. In addition, our trained and experienced technicians make sure the wheelbarrows aren't overweight.
We offer a professional and high-quality Concrete Wheelbarrow Service that adheres to the following guidelines:
Used by skilled labour or a technician.
No overloading.
Before using a wheelbarrow, we inspect the nuts and bolts.
There is no bending or cracking of the surface.
Everyday cleaning is a must.
ST Concrete has employees who have worked on a variety of construction projects. As a result, we will assist you in completing your project on time, at a reasonable cost, and, most importantly, by providing you with round-the-clock support.